Charles Hargreaves
Charles Roger Hargreaves nascut la 9 mai 1935 – decedat 11 septembrie 1988,  a fost un autor englez si ilustrator a cartiilor pentru copiii, este cunoscut în special pentru seria "Mr. Men" si "Little Miss" Simplitatea cartilor, povestile inocente, aparitia culorilor deschise si ilustratiile desenate cu atata indrazneala au facut ca seriile sa ajunga renumite in intreaga lume.
Cartile lui Charles Hargreaves au fost vandute in peste 85 milioane de exemplare in intreaga lume, fiind traduse in 20 de limbi.
In `75, succesul cartilor sale s-a transformat  intr-un serial de desene animate pt. televiziune. Cartile lui Roger Hargreaves au fost traduse si in limba romana. Cel mai mare succes l-a avut Mr. Men, o serie de 48 de cartocele pt copii . Dupa ele s-au realizat seriale animate si concursuri pt copiii.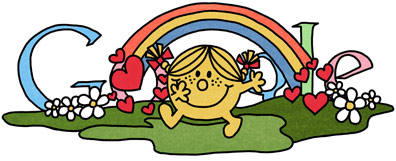 Tags: animatii, benzi desenate, carti de colorat, cartoon, Charles Hargreaves, copiii, full episode, Google Doodles are Mr. Forgetful, lazy, little miss giggles, Little Miss Magic, little miss plump, Little Miss Shy, Little Miss Tiny., mr, mr . grumble, mr tickle, Mr. Bump, Mr. Happy, Mr. Messy, Mr. Slow
This entry was posted on Monday, May 9th, 2011 at 12:40 am and is filed under Istorie. You can follow any responses to this entry through the RSS 2.0 feed. You can leave a response, or trackback from your own site.